By DJ Tom, New Music Fridays at nOOn
Rolling Blackouts Coastal Fever's June 15 release of their first full length album "Hope Downs" on Sub Pop Records, became the album of my summer. Hearing the interplay between the musicians in the songwriting, I couldn't wait to see these guys live!
All the way from Melbourne, Australia, brothers Tom Russo on guitar/vocals, Joe Russo on bass, with cousins Joe White on guitar/vocals, Fran Keany on acoustic guitar/vocals and drummer Marcel Tussi on drums, were welcomed by a full room at the El Club on Sept. 10. They got right into their set, opening with "The Hammer," my favorite song off "Hope Downs."
I love bands with more than one vocalist and writer. How they collaborate, lyrically and musically, how each artist adds to each other's compositions. The instinct between musicians live that you see and hear when a band is tight, and the energy is full force between band and audience. It comes so effortless to these guys, it's just the way they play.
The bass and drums drove "Clean Slate" next, with the guitars then taking off, their leads firing at each other in play above them. "Talking Straight," with the force of a nearly static drum beat start to finish, came next followed by the bouncier "Wither With You."
I have to say how nice it is to have an acoustic guitar up front with the two lead guitars. Fran on acoustic, is sometimes in the middle with dual leads on either side, and with the force of the rhythm bass/drums behind him. However, for each tune, the configurations of instruments and vocals quite often change. One thing you can tell seeing RBCF is how much they enjoy playing, and playing songs that MOVE. You won't be standing still.
Song by song the band played an exhilarating set as fun as riding a rollercoaster. If you weren't there, you can find examples of these guys live on YouTube. But watching a live video versus BEING THERE is like watching a video of the front seat ride of a rollercoaster versus being ON a rollercoaster.
"Air Conditioned Man" and "Time in Common" live were great examples of the new launched coasters like Top Thrill Dragster. Zero to 122 mph in a few seconds, with beautiful warm guitars as the roar of the ride. Roar it did. The one song I had first found online live, prior to the show was "Wide Eyes" which was mind-blowing to watch them jam this song out. I really looked forward to seeing this in person and it was in their encore.
I know from experience, working at the hall all those years, how fortunate I was to see RBCF, at this stage in their career in a room this size. Rolling Blackouts Coastal Fever live were everything I hoped for all summer. After the show, I had the pleasure of meeting all the guys in the band as they hung out by merch greeting and chatting with fans. Being a HUGE fan I purchased their record catalog. They gladly signed them all as we talked music and had some laughs. I love being able to thank bands like this for their work, in person, tell them how much I love their music-and how good they make me sound as a DJ! RBCF appreciated the support from Ferndale Radio, and wanted to show their support for us, o they happily took a photo for me, shown below.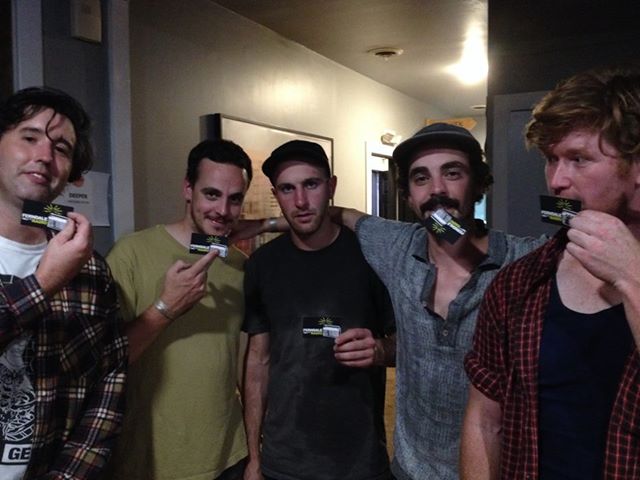 Deeper is a band from Chicago out on tour for their first self-titled release on Firetalk Records. Last month when they were announced as the support for RBCF, 100.7 FM New Music Fridays @ nOOn album reviewer Mark Bowman sent me a link to their music. Upon hearing their new album, I loved it, added them to my playlist, and looked forward to this night even more!
Nic Gohl on guitar/vocals, Shiraz Bhatti on drums, Mike Clawson on guitar and Drew McBride on bass brought everyone in from the patio and the bar side of the El Club as they started into their first tune Monday night.
Playing a very solid debut album live with precision, this band easily had the crowd's focus. One thing I noticed and appreciated right away, was the minimal drum set-up that created such a strong foundation for the kinetics of the music. I hate making comparisons, but the tones and vibes of the guitars in some spots, along with how the drums were played, was slightly reminiscent of the feel of the "Pornography" album by the Cure. I mean that as a HIGH compliment, no pun intended.
It was completely obvious that the intricate workings between the musicians were totally ON during this night. I did not grab their set list written on paper plates, which would've been greatness for my collection.
Three of the tracks I currently play on New Music Fridays @ nOOn, "Pink Showers" with it's shimmery obtuseness, and "Feels" in its frenetic glory, were complimented well with grace of volume and the added power of live performance. A highlight for me was the smokey dreamy psychedelic "Pavement." This song is something I won't even try to write about, because it's about the feel of it. Just find it and give it a listen.
I'm so glad to have caught this band live! I am sure if some in the crowd didn't know them beforehand, they were fans by the time they finished their set. Hearing their debut album and seeing Deeper in concert leaves me excited to see this band's creative future. I met them all at the merch when I bought their record, and they were nice enough to sign it for me and hang for a little while. This is a band I definitely look forward to seeing again. A nice thing about Chicago bands: we are not too far away for them to come jam! Appreciative of our support, the guys in Deeper were more than happy to show their appreciation for Ferndale Radio New Music Fridays @ nOOn taking this picture for me!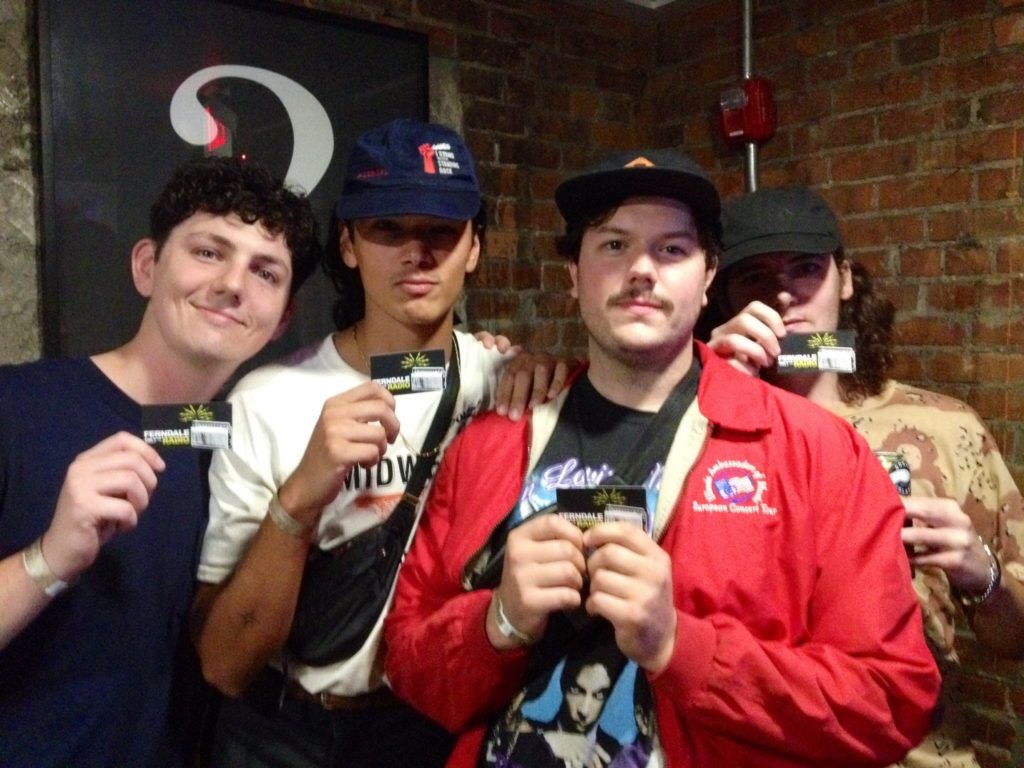 To learn more about Deeper, click here to read Mark Bowman's interview with the band.
Rolling Blackouts Coastal Fever
El Club
September 10, 2018
The Hammer
Clean Slate
Talking Straight
Wither
Sister's Jeans
Julie's Place
Sick Bug
Air Conditioned Man
Exclusive Grave
Bellarine
Time In Common
Mainland
Fountain of Good Fortune
French Press
Colours Run
Wide Eyes