By DJ TOM
New Music Fridays at nOOn
The Dirty Nil
The Underground @ DIME Detroit
October 25, 2018
The Dirty Nil is a band I added and started JAMMING on New Music Fridays @ nOOn last spring upon first listen. Hailing from Hamilton, Ontario, the 2017 JUNO AWARDS BREAKTHROUGH BAND OF THE YEAR are: Luke Bentham on lead guitar and lead vocals, Ross Miller on bass and back-up vocals, and Kyle Fisher on drums. Now on the road with their new album "Master Volume,." their Detroit stop was the second night of their first headlining U.S. tour. How fitting that they'd "Kick Out The Jams" in Detroit, on the eve of two local performances of MC50 at St. Andrew's Hall the following night, and the Fillmore Detroit the night after that. If the Dirty Nil was around in the 70's, they'd be blowing the roof off Cobo Hall, probably recording a live album like many GREAT bands did there, in the era of Detroit ROCK City. Of course, that could very well be on the horizon.
The Underground is a nice cozy basement club located beneath the Detroit Institute for Music Education. When you place a band that could easily fill a 12,000 capacity venue with their energy, and contain that energy in a venue that's 12,000 square feet, well, "That's What Heaven Feels Like," and sounds like. The decibels of that song appropriately launched the set. From that point the band ripped through earlier tunes like "No Weaknesses" and "Fucking Up Young," "Know Your Rodent," "Zombie Eyed," "Friends in the Sky," and "Wrestle You From Husker Dü," along with every track from the OUTSTANDING "Master Volume".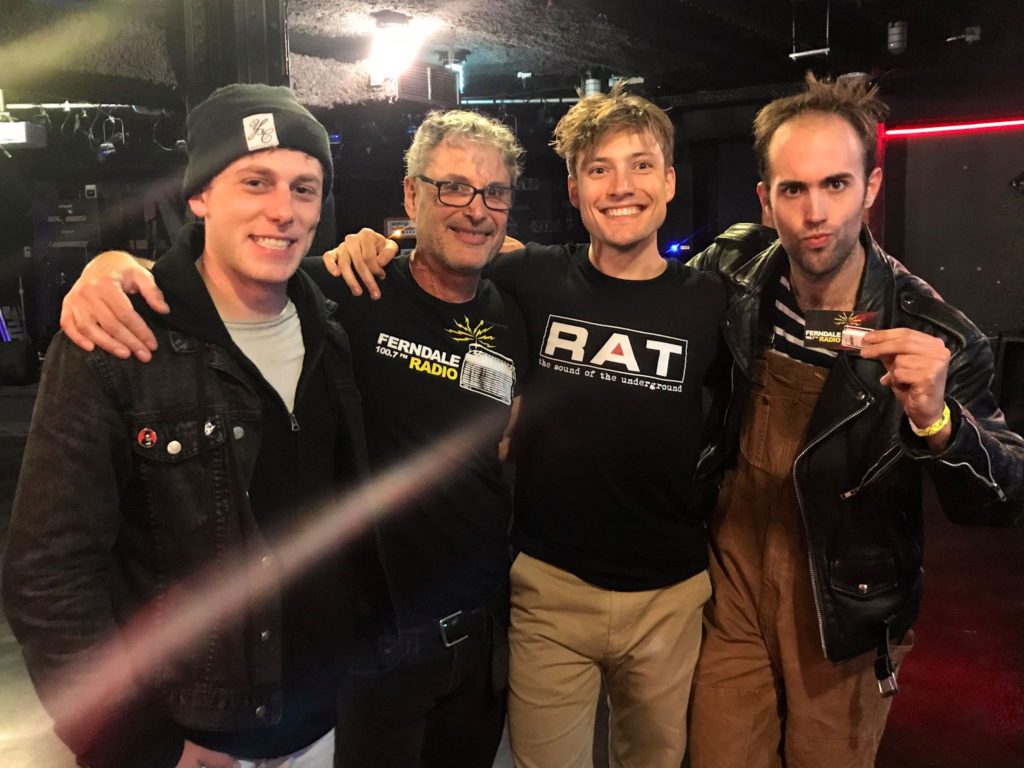 It was one ROCKING party as they tore it up with "Pain of Infinity," "Bathed In Light," "Please, Please Me" and "I Don't Want That Phone Call." The energy exchange between band and audience RAGED through. STRENGTH and RAW POWER, Kyle's drumming is precision-rapid-fire, driving the band, accentuating the lyrics and Luke's delivery thereof. During the jam in the second half of "Evil Side," Kyle was particularly mind-blowing, pushing each verse of guitar riffs harder and harder, the higher the band climbed to the SHOW STOPPING crescendo. Ross's jackhammer bass is an equally solid counterpart to Kyle and Luke. The bounding, charging bass lines he plays ricochet him between bandmates. Kyle and Ross together produce a HEAVY infectious groove, perfect for Luke's HIGH VOLTAGE guitar-work. The Dirty Nil is a POWER TRIO in every sense, but I must point out – Luke Bentham, literally star-studded, is a natural FRONT MAN. One of THE best, with inescapable stage presence. Vocally, he possesses an unbelievably STRONG range, that in one line can go from endearingly melodic sweet to FUCKING HARD CORE, effortlessly, personality
exuding. After a BOMBASTIC and INTENSE encore of Metallica's "Hit the Lights" Luke jumped off the stage into the audience, the band hanging out and chatting with fans, taking pictures, signing autographs. I bought all three albums, which are superb packages, and I have to say again, it's so awesome to have records back!!!
Being a rocker at heart, as a 21-year-old kid, I saw concerts like AC/DC at Cobo (Nov. 15, 1981), Van Halen at Cobo (Aug. 13, 1982), or Queen at Joe Louis (Aug. 6, 1982). Later, working at the hall, so many "up and comings" like Pumpkins, Nirvana, Pearl Jam,  Soundgarden, and Chili Peppers, etc. From experience, I know it is an absolute privilege to see the Dirty Nil, at this stage in their career, KILLIN' IT in an intimate venue!!! THIS is what ROCK is all about.